Adjust Season volumes and strategies 
Season Planner is designed to execute two main functions:
Illustrate the default season construction and progression of seasonal training volumes per intensity ("partial volumes"), and

Serve as a manager (planner) of season loads and strategies in cycles.
How to manage/modify Seasonal Strategy
When you arrive to a Season Planner page, the system already suggests the "optimal" seasonal strategy based on the distance of your main event. However, you still have a choice to:
Change the suggested strategy to another pre-set strategy type

Create your own strategy using one of two tools built for you:

Interactive ("easy") strategy manager

"Expert" ("professional") strategy manager
To change the strategy to a different pre-set strategy simply select the desired strategy type and save your settings
IMPORTANT! It is important to save the changes you make on different pages
Example: Adjusting Cycles' Volumes and Strategy
In addition to strategy type, the user may also adjust the suggested by us seasonal volume(s) (circled on picture).  Once you make changes and calculate, the seasonal strategy will be re-calculated.  You would still need to use "Apply" button to save your changes.
After any changes made to the strategy, the user still has a chance to return to original 3S suggestions by using "Reset to Default" button. This button is present on all planning pages of the site and is designed to bring settings to default values (based on settings in Profiles 1 and 2).
How to use Interactive Strategy Planner tool
The Interactive Strategy Planner tools are designed to simplify adjustments to the season construction without sacrificing the overall quality and integrity of season construction and its core principles.
Single Cycle Example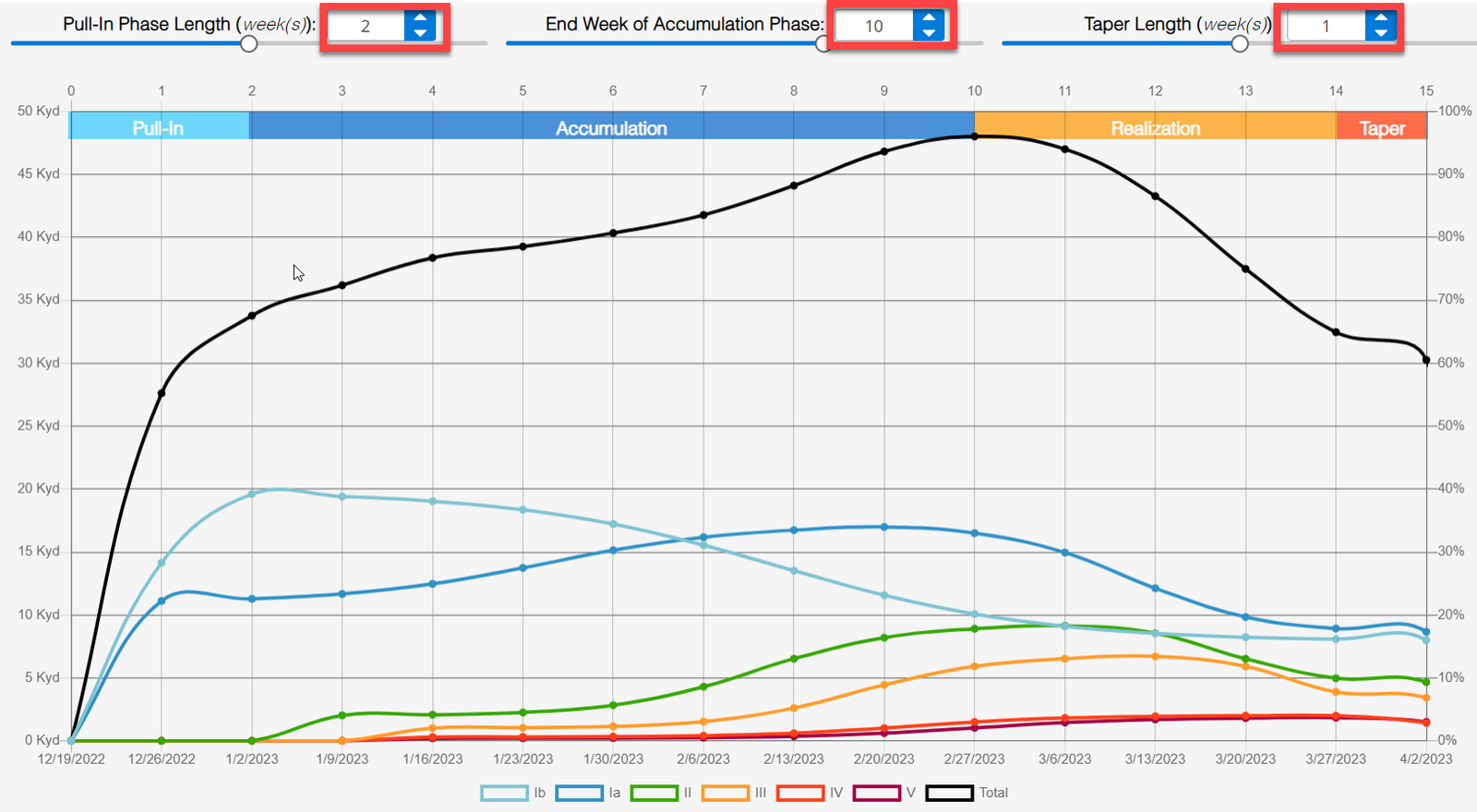 3S planning concept is based on Contemporary Periodization principles, the season (cycle, if the season is built in one cycle) is divided into four phases:
"Pull-in" or preparatory
Accumulation (of aerobic potential)
Realization (maximization of anaerobic power)

Taper
Among several other things (covered in "Expert Mode"), the duration of each phase determines the "direction of preparation" or season strategy type.
Adjusting Season Construction with Interactive Tool
The duration we use to prepare phases is based on physiological principles of adaptation and Parametric Training principles. As of today, this combination is the most progressive and advanced in Training Methodology theory. Accidentally, this is the direct area of expertise of 3S since many of training concepts you use today were introduced by its founders.        
Season View by Partial Volumes
Sometimes coaches need to check and plan specific components of planning (such as volume per Energy System or Energy Zone).  3S Season Planner allows to view each partial volume separately.
To achieve this, simply select the desired Chart Type:

The season graph will recalculate accordingly:
To view desired Zone Partial Load, deselect the Zones you do not need to view on a chart below the graph. This way you can view planned load progression by Zone or any combination of Zones: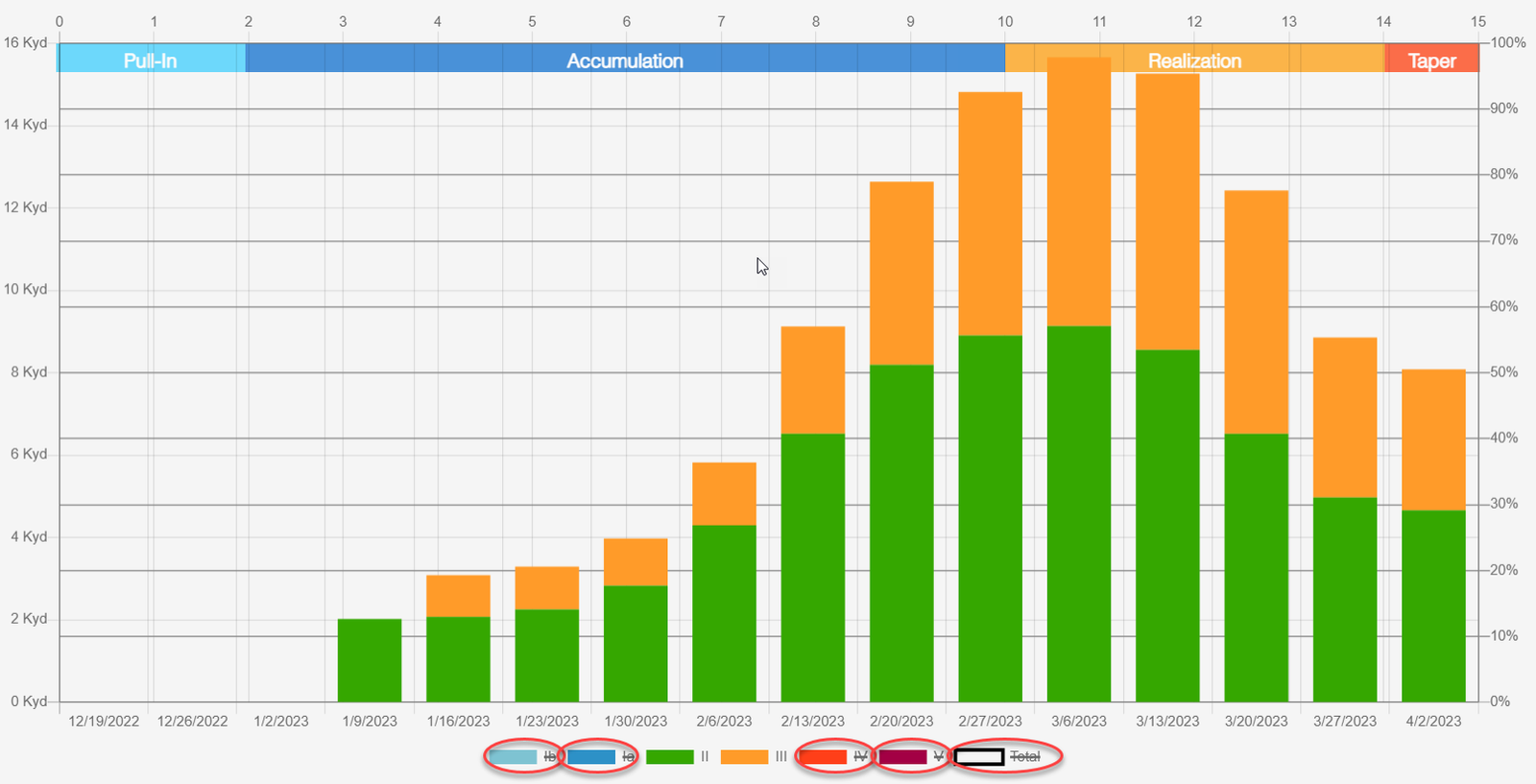 The cascade construction does not follow "classic" season approach and stops the first cycle at peak of planned training volume, without adding taper or transfer for maximization of maximum power building phase.  This is possible (and effective) due to application of Parametric Training principles. 
How to Use "Expert" Season Strategy Tool:
The Expert strategy planning tool allows for adjusting practically any parameter of your season with maximum precision.  However, the use of the Expert Season Strategy Tool may require advanced knowledge of planning principles.    You may try it at your own risk, but we recommend contacting 3S experts or taking the 3S Certification course.  Remember,  you are only one call away from professional help which is complimentary to all of our users.