Training Cycles page is designed to provide several important services:
Provide visual summary of your season and cycle's construction

Provide access to current and previous ("history of training") cycles

Serve as an editor to results' progression per cycle and cycle initial intensity

Serve as a manager for a multi-cycle season

Cascade Season manager
The most important from this are list are the last two: manager of a multi-season construction and cascade season option.
How to Change Number of Cycles
After you arrive at a Cycles' page, you may change the number of cycles between 1 and 2 (maximum allowed number of cycles in current version (V.0.5.0.75) – is two).
Important!  The minimum cycle duration (considering the optimum time for achieving positive adaptation to training) is 5-6 weeks (optimum duration is between 16 and 22 weeks). You can read more about Cascade strategy at 3S Resources and 3S University courses. 
To add additional cycle to your annual plan, just add another One or-two cycled season.
Example:

After Calculation, you will receive the following chart: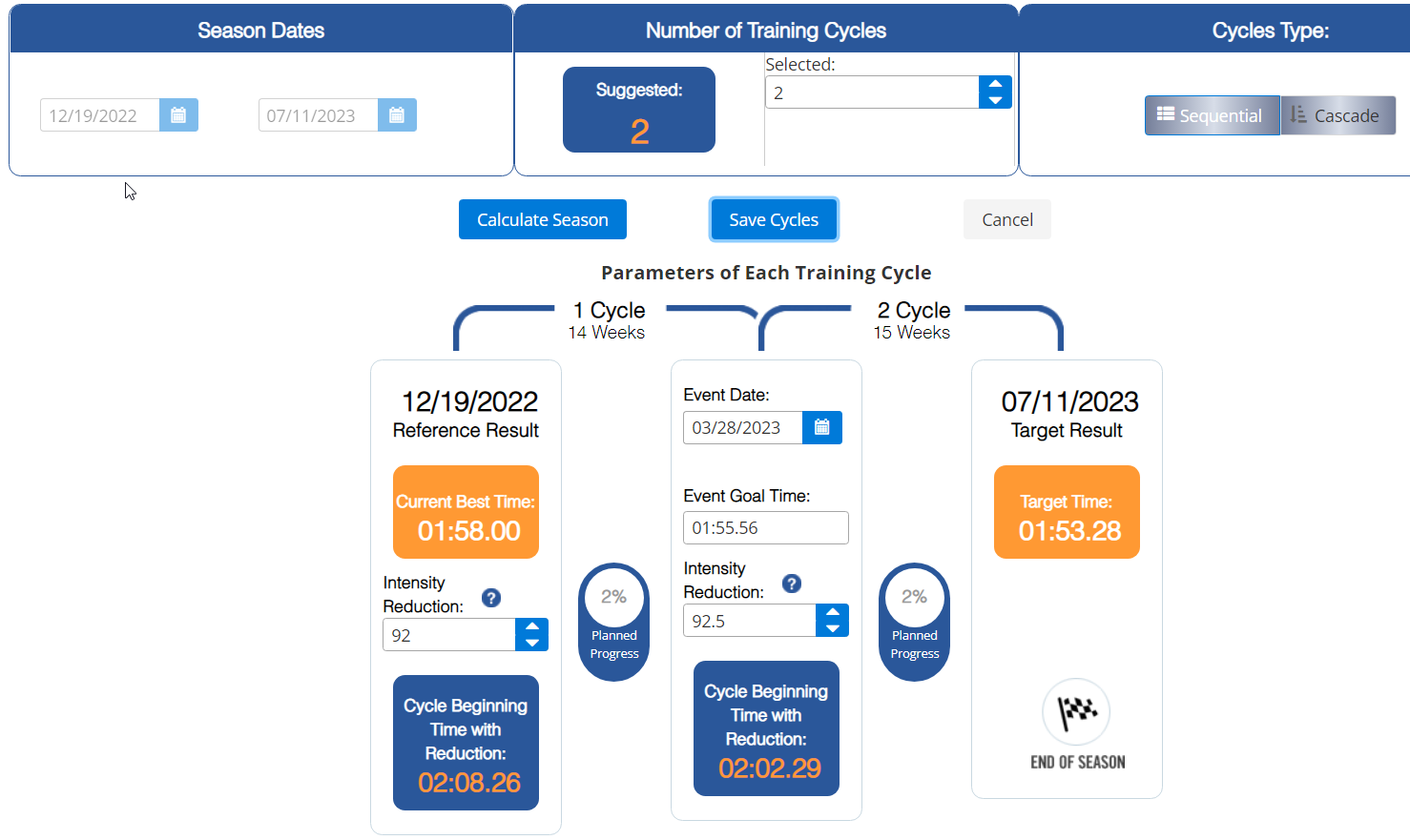 By default, the program offers a Consecutive cycles construction.
Under this scenario, you can manage intermediary target date and cycles' beginning intensity levels.  All other changes to your season targets should be executed on the Season Settings page.
How to manage Cascade Season Construction
"Cascade" season construction is a proprietary 3S planning technology allowing to maximize training adaptation in Aerobic Capacity component by repeating ("double building") of accumulation phase.  It works best with seasons of 20 + weeks of duration, and especially when the intermediary event carries lesser importance than the last one. 
To change season construction to a Cascade type, select "Cascade" switch at the upper right corner of the page.

After selection is made, use Calculate Season button first.  You will receive the following view:
Under this scenario, the user can manage each cycle parameter separately, including:
First cycle end date (please note that first cycle end date coincides with the end of Accumulation cycle).

Second Cycle start date: Please note that by using this function, you can separate the end of the previous cycle with the start of the next one.

Beginning intensities for each cycle separately.
Save changes by pressing on  "Save Cycles" button 
The difference between Sequential and Cascade season Construction
The difference between different season construction types can be best illustrated on the graph (Season Planner view):
Sequential Season
Sequential season places cycles one after another. Each cycle strategy can still be modified separately using the Season Planner function.
Cascade Season
The cascade construction does not follow "classic" season approach and stops the first cycle at peak of planned training volume, without adding taper or transfer for maximization of maximum power building phase.  This is possible (and effective) due to application of Parametric Training principles.